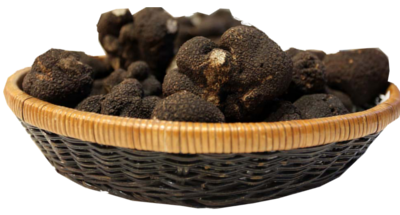 Toska Truffles has been educating our customers on how to enhance the flavor of their favorite dishes while making the most of your truffle purchase. A lack of regular exposure to truffles and the flavor possibilities of this decadent, savory treat has created "cooking anxiety" in the past. High prices, lack of availability, and concern over waste of such a delicate food has kept many restaurants and home chefs from adding fresh truffles to their menus. Heavy planning for a seasonal dish or a one-off special occasion used to be the only way restaurants could consider adding fresh truffles to their customer's experience.
Toska Truffles is the market leader in providing high-quality fresh truffles at a price-point that makes experimentation affordable. Whether you are a seasoned truffle expert or have never used this tasty tuber, your personal truffle professional can help with building a truffle plan that fits your needs.
4 Steps To Truffle Success
4 Steps To Truffle Success
Step 1: Know Your Truffle
Education is the cornerstone of Toska Truffles and the exceptional customer experience we provide. We want our customers to understand the aroma, taste, and best-practices preparation of each truffle type while supporting you when ordering truffles.
Planning your menu with your kitchen team is important so that each contributor understands how truffles are used. Your personal Toska Truffles rep combined with an ever-growing, online knowledgebase provides direct access to how to best use each truffle product including preparation, storage, and guest chef recipes.
Step 3: Determine Quantity Needed
Toska Truffles makes it easy to add fresh truffles to your menu based on your exact requirements. Our seamless ordering and delivery system allows for better menu planning while our price-point makes it easier to add more truffles to your everyday offerings. Toska Truffles can fulfill your scaling order requirements without a placing a premium on top of your quoted, per-ounce purchase price.
Step 4: Have Your "Plan B" Ready
Your fresh Toska Truffles products ripen naturally like other fresh produce.  As your truffles life-cycle continues, they become better suited for specific flavor applications. A whole truffle used for fresh shavings early in the week easily converts to infusions for truffle butter as the product becomes softer. Toska Truffles' ongoing support team includes suggestions on how to build a truffle plan that maximizes the use of every purchased ounce. Speak with your personal Toska Truffle expert and start building your truffle plan today!
Contact Us Today
Toska Truffles wants our customers to feel comfortable with their purchase while exceeding their expectations in terms of service. Have a quick question or would like an onsite consult? Call us today for your 15-minute onsite introduction to a new way to buy fresh truffles and quality truffle products.
Order Your Fresh Truffles
Buying fresh truffles from Toska Truffles allows for a just-in-time supply through a seamless online experience. Whether you want to buy your first ounce, or prefer to set up a recurring schedule for weekly delivery, you always can get just what you need. Explore all of our fresh truffles and quality truffle products today.